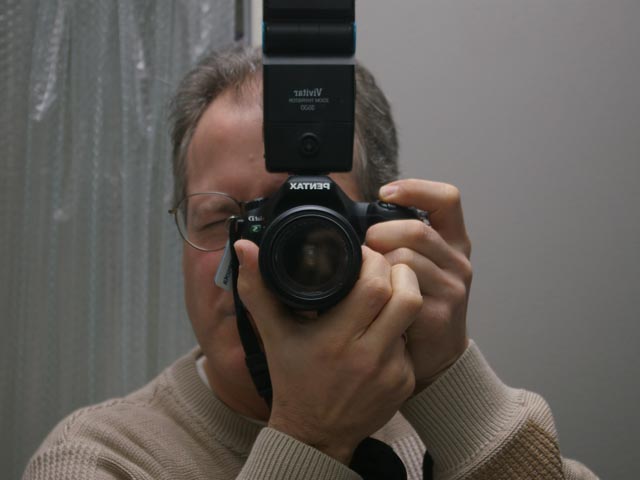 From 1979 until about 2001, I used Pentax cameras - starting out with a K1000, and then upgrading to a Pentax MX in about 1989. I shot black & white and color film up until about 2001.
In 2000, I started shooting digital. First, a little Agfa camera that I won as a door prize. It was stinky enough that it was just a toy, and I continued to use "real" cameras for most of my work. Then, I got a FujiFilm 1400z (ooh! 1.4 megapixels!). After that taste of "almost good" photography, I bought an Olympus 2040z (now we're up to 2.1 megapixels) which I used for a couple of years. By this time, I'd stopped shooting film altogether, and the 2040z was my "one and only" camera until inheriting my uncle's Olympus 4.1 megapixel 4040z.
Finally, by autumn of 2004 I was sick of the slow response and poor low-light noise of the pocket digitals. I saved my nickles and dimes and purchased the Pentax *ist-Ds digital SLR. The name sucks. But the camera is magnificent! I can use all of my old Pentax lenses and I am having the time of my life shooting photos again.
What follows is a haphazard collection of scanned and digitally-captured photos from across the spectrum of my stuff.
Recently-done photos
Concert shots from the 80's - all poorly scanned from color and B&W prints.
Gallery 1 - Annie Lennox, David Bowie, Queen, ELO, Rolling Stones, Laurie Anderson, The Replacements, Simon and Garfunkel
Gallery 2 - Robyn Hitchcock, Genesis, O.M.D., Queen (again), Bruce Springsteen
My and My Brother
My Family
Twins Days through the years...
Various Concert Photos (from 2000 and newer)
Miscellaneous Stuff