A pretty good run this year.... 5 guys on FJ's, ranging from a 1985 to a 1990. Oddly, the 1990 had the second-highest mileage! I guess some people just like to ride more than others! The attendees: Jeff Bixby, Bill Charette, John Simonette, Tony Munich, and me, Charles Robinson.
After a slow start (I couldn't find the starting/meeting point!) we got rolling, and did a few hundred miles. Started on Cliff Road off of Cedar Ave, drifted over to Prescott, WI, and with the exception of a few mile detour we followed 35 down along the river. Stopped at Buena Vista park in Alma, WI for a scenic view (The Vista was very Buena!). Then ate lunch right next to the gas station where Brad Stone lost his keys last time. Toodled the rest of the way down 35, crossed over at Winona, and went up to the bluffs.
From Winona, we headed up 61 on the Minnesota side, and did "The Road" - highway 60 from Winona to Zumbrota Falls, which goes through a lot of glacier-created hills and valleys, with a few straight shots through cornfields as you race to the next set of twisties.
Then the rain caught us, and we all headed home our seperate ways. Jeff led the charge up north through Welch, while John Simonette headed down south to try and skip around the rain. I went straight home, happy in the knowledge that my new Givi bags were keeping my camera bone dry!
This are pretty small representations of much larger pictures. To see something up-close (around 800x600 or so), just click on the smaller photo and a larger one will load.
This is a shot of all the bikes parked in a row along highway 35 in Wisconsin. You can't see it, but we're all facing beautiful Lake Pepin, which is really just a wide spot in the Mississippi river. The bikes aren't in chronological order, sorry.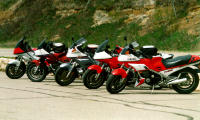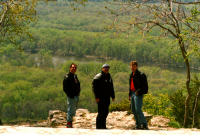 This is John Simonette, Jeff Bixby and Tony Munich - all enjoying the view off of the bluffs high above Alma, Wisconsin at Buena Vista park. There is a great view of the river, trees, and Lock & Dam Number 5 (just to the right of Tony - you can't see it in this picture. The use of a telephoto lens sure makes them look like they're waaaay up above the trees, doesn't it?
This is a 17mm fisheye shot from about where John Simonette was standing in the last shot - showing the grand expanse of the Mississippi river at this point (excuse me, Lake Pepin). Lock and Dam Number 5 is to the right of the photo, and Alma is stretched out along the river just below. If you look REALLY carefully, you can just spot the gas station where Brad Stone lost his keys last time. Have I mentioned that enough yet?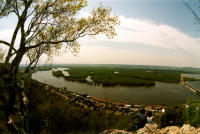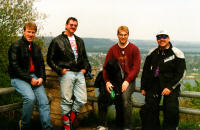 This is "the guys" at the scenic overlook at Winona, Minnesota. From left to right - Tony Munich, John Simonette, Bill Charette and Jeff Bixby. You can't tell from this picture, but we are about 10 minutes away from almost being sideswiped by a group who followed us down the narrow road and didn't realize that a 20mph hairpin is really a 20mph hairpin, if you're driving a cheap "K" car loaded with 6 people in it. Tony and I nearly got killed. Ah well, all's well that ends well!