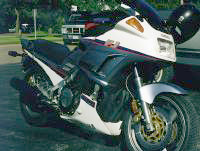 I currently ride a 1990 Yamaha FJ-1200 - one of the best all-around motorcycles you can buy. Except that you can't buy them anymore.
Today (hell, who am I kidding?? This was back in 1999 or maybe early 2000) I went for a ride with a few others from the FJ mailing list. Photos right here!
For a 1989 review from "Cycle" magazine of the 1989 FJ1200, Take a look right here .
In October of 1999 I did something I've never done before on my motorcycle. I crashed. Here is a summary of all the fun I had.
October 2001 - went for a little ride with a local group of friends. Small ride report and a few photos
On July 20, 1996, my friend Tim and I decided it would be a fun experience to see how long we could stay on our motorcycles before falling off from sheer exhaustion. This ride is meant to be a small taste of what it's like to participate in the Ironbutt Rally. This rally was the 2nd annual Minnesota 1000.
(If you think that riding 1000 miles within 24 hours sounds like "a piece of cake" you are either completely not familiar with what it's like to ride on a motorcycle, or you live on your bike and are surfing the Web from your cellular-modem-equipped PowerBook right now!)
My buddy Tim has a story of our 1996 adventure. Not for the faint of heart! (The ride, not the story)
We completed this event in 1997 as well, but did not do as well. Bummed me out! Here is a new summary of the run and some photos.
Another entry in the 1998 Minnesota 1000 yielded a similarily low score... but the point wasn't necessarily to score big - it was to ride and have fun. (But scoring well would have been nice!).
I just finished another Minnesota 1000. Take a look at my story of my 1999 ride. My best year yet!
In the year 2000, on July 1-3, Team Strange hosted the1st-ever Minnesota 2000. It was not one of my better years, although I got to see a lot more of Winnipeg than I'd ever seen before. Take a look at my friend Tim's account of those fateful 48 hours.
2001 found us back with the regular 24-hour format. A big looping route through Iowa, Nebraska, South Dakota and Minnesota was prettier and a lot more fun than I'd had in many years of running the rally. Did I do well? Of course not, but I enjoyed myself all the way through!
Took a year off of the MN1000 in 2002 so that I could do the Great Lakes Challenge instead. Around all of the Great Lakes (all of them) in one big circle over the course of two and a half days. Great fun!
2003 and I was back to the same format. My ride report is right here.